The Fifth Original Writing Competition
Junior High School Group
Platinum Award
Written by
Luo Rui, Cangxi County Suburban Middle School, Guangyuan City, Sichuan, China
Date: October, 2018

In our becalmed autumn afternoons, leaves drop from trees like exhausted butterflies, falling quietly upon old cobblestone walkways. I carefully clean the old millstone of accumulated moss. Removing the top stone shows a center axel hole filled with desiccated leaf bits. It marks the prelude to the start of another busy season of noisy grinding.
A mottled cat leans against a stone stairway and squints its eyes under the day's waning sunshine. A gnarled old creeping vine hugs the ridgeline of a house, reaching skyward. Grandma sets the stone mill into a slow, revolving cadence and then prods me to hurry up and pour the soybeans over the top. Only five years old, I balance myself on a chair with my left hand holding firmly to the mill and my right holding a scoop, which I use to send a steady supply of soybeans and water into the rumbling machine. I was busy and delighted in equal measure!
Stone mills are simple machines. Two smooth stone "fans", called the "yin and yang fans" by my grandparents' generation, are set atop a fixed mill that, in turn, sits on a limestone base. When grinding beans, the 'yang' fan moves while the 'yin' fan stays in place. These fan stones are always paired together and evoke the concept of the yin and the yang in Taiji (T'ai Chi) philosophy. The groove marks chiseled on the parts of the two fans that face each other are what grind beans and grains.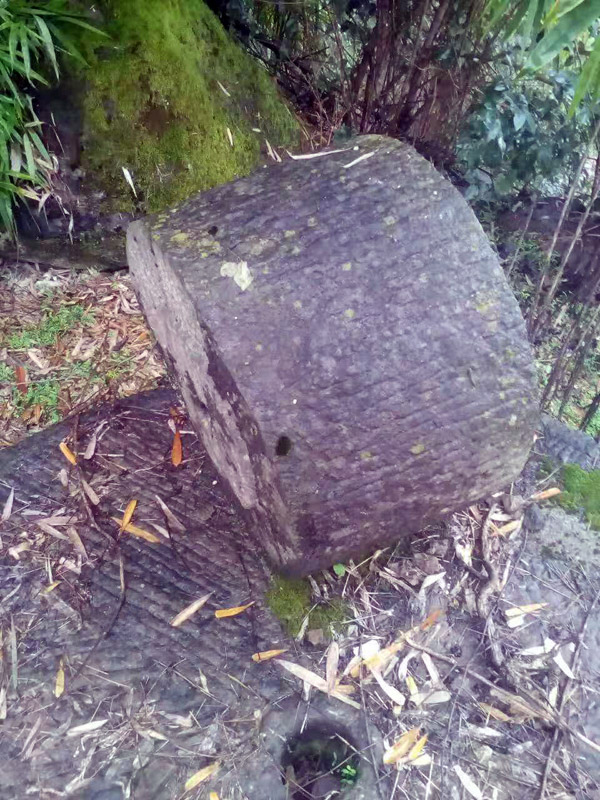 Grandma and my cooperative effort quickly fill one pot full of thick soymilk. A while later, Grandma pulls me over and we sit together on the limestone door sill.
"Hey," she says with a loving smile, "you're pretty lucky. When I was still living with my parents, the mill there was shared by seven or eight families. Back then, if you wanted soymilk, you needed to put in a request and then wait days for your turn. Then, when your time came, you still had to travel about eight miles to where the mill was, clean it out thoroughly, and select the good soybeans before you could even start milling. I gripped the handle with both hands and, step by step on my little bound feet, rotated that mill. I was often covered in sweat by the time I'd finished." Grandma continued talking and gesturing while every so often moving her bound feet around.
With a faraway look of nostalgia, Grandma cupped my forehead and said, "But, after I married your grandfather, we didn't have soymilk for a long time. What a surprise then, when in the month after I gave birth to your father that your grandfather brought home a small stone mill. It was only later that I learned that, while I was homebound during the pregnancy, he had scoured the hills in our area to find just the right pieces of hard limestone. He'd leave early and return late. Your grandfather spent months chiseling those pieces into a proper mill. He said he'd done it to ensure that I ate well after your father had been born. But I suspect that he was even more interested in having me make fresh soymilk for him."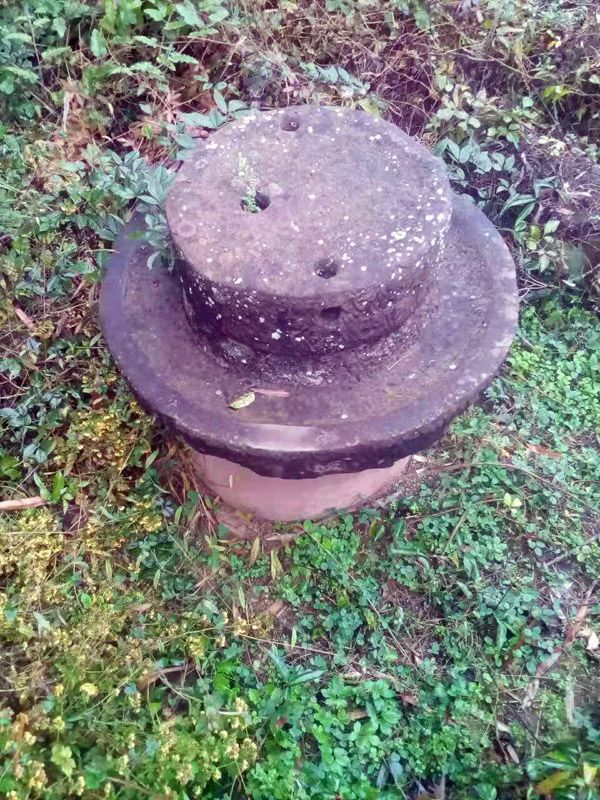 At this point in the conversation, Grandma gazed reflexively at the mill and murmured, "This old mill is already nearly half a century old!"
Grandma passed away three years later. She disappeared from our lives like morning dew in the summer sun.
With Grandma gone, Grandpa's hopes for soymilk naturally fell on Mom's shoulders. She would always soak the soybeans overnight and then begin grinding them at around five in the morning. Hearing the frictious whir of the electric mill meant a pot of soymilk was on its way and, after boiling, would be ready for Grandpa to enjoy. Even so, Grandpa frequently drank it down plaintively and I occasionally saw him looking at Grandma's photo on the wall and saying softly, "My Dear, the taste … It's just not the same."
This state of affairs lasted through late autumn when, one late afternoon, Grandpa with a bag of soybeans in hand led me out to the long-inactive mill. After several hours of washing and preparing the millstones, Grandpa rolled up his sleeves, gripped the handle, and began rotating the millstones just like Grandma had done. I watched as the muscles in Grandpa's arms tightened and his legs strained. He had brought that mill to life, he was turning it with his own fortitude!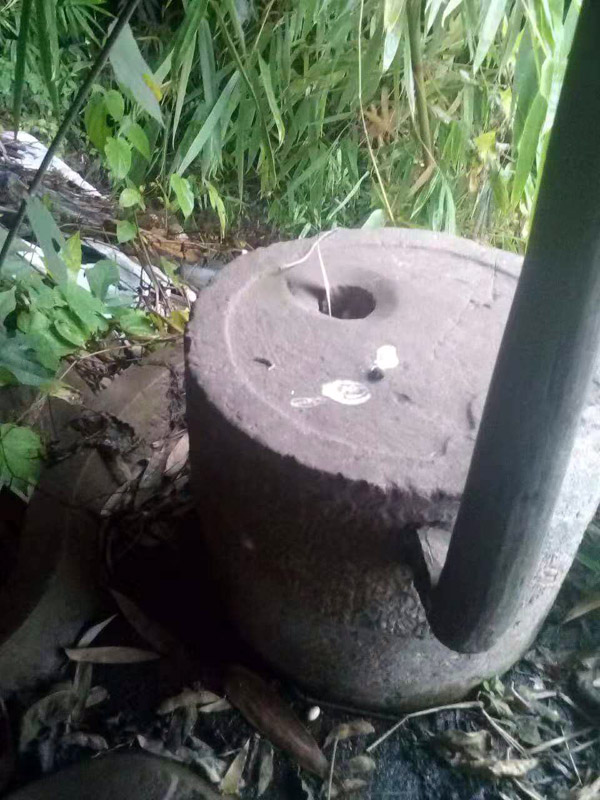 His appearance in the moment reminded me of Acala, the Great Protector, while his eyes burned with the fiery determination of King Kong! His hair and beard flowed with the gusts of wind, giving him the appearance of a proud, solitary lion! His determined effort kept that mill spinning without stop, and the "yin and yang" fans for a brief moment evinced an almost spiritual aura. In no time at all, the soy and water had been transformed into soymilk.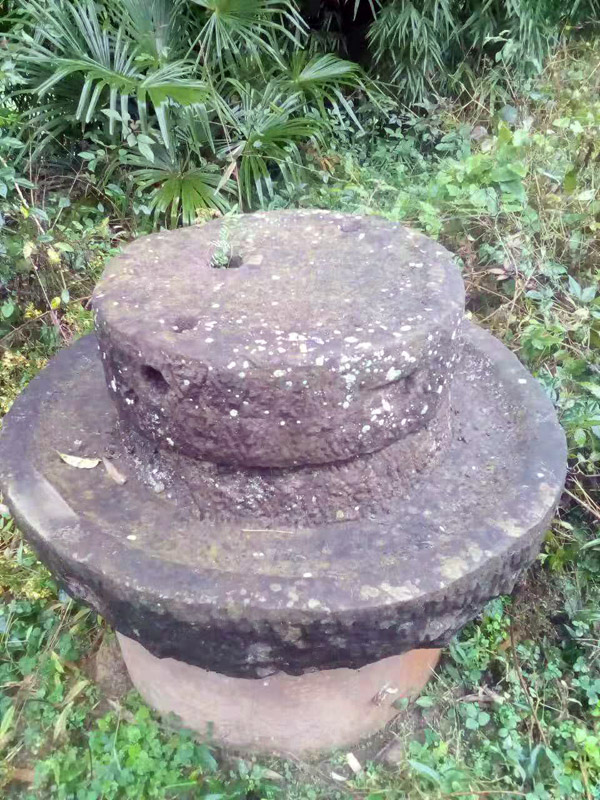 Grandpa died the following spring and Dad buried him next to Grandma. The two were together again, with a clear view of their lifelong home and the stone mill.
I have since gone back and turned the family's stone mill. While I knew that it would surely not be easy to get those heavy stones to turn, I still thought it would be an interesting endeavor. But after turning it awhile, my arms and legs began to feel like lead weights and the exciting novelty of the effort dissipated. It was only when I saw the thick stream of soymilk start to trickle out that I finally appreciated that Grandma with her dainty, bound feet and Grandpa with his fiery 'King Kong' eyes were both exchanging the remaining energy they had left in life in return for hope embodied in this rich and satisfying drink.
Yes! Effort in exchange for hope, embodied in bowls of fresh and delicious soymilk. The hope etched into the faces of generations past are like the grooves chiseled into millstones.
The turning of the stone mill epitomizes the difficulties faced by our ancestors and bears witness to their experiences and hardships. The stone mill helped them overcome and prevail against adversity.
Suddenly, before my eyes I see a turning stone mill, reminding us of how things were in the past.


Reviewer I


The old stone mill in this story is a witness to caring and affectionate lives. The author uses this metaphor well.

Reviewer II
The tone of this story is set by the initial description of autumn and uses scenery as a vehicle for describing emotions, giving the narrative an overall air of nostalgic melancholy. The author uses the stone mill as the anchor for a story of intergenerational affection. In describing the successive deaths of his grandparents, the author uses images to describe his feelings. This approach successfully conveys heartfelt, deep emotions without becoming overly emotional and captures a beautiful vignette of the human experience.