The Fifth Original Writing Competition
Primary School Group
Platinum Award
Written by
Dang Feng Xinyi, Chengguan Elementary School, Huayin Municipality, Weinan City, Shaanxi Province, China
Date: October, 2018

A set of eight bronze statues clad in mandarin jackets and holding musical instruments in various poses grace the plaza in front of Huashan North Station. The figures, poised and unembellished, are all clearly enjoying their merry undertaking. They are Huayin City's 'calling card', the symbol of Weinan City, and the highlight of Shaanxi: "Huayin Lao Qiang", an old form of musical theater.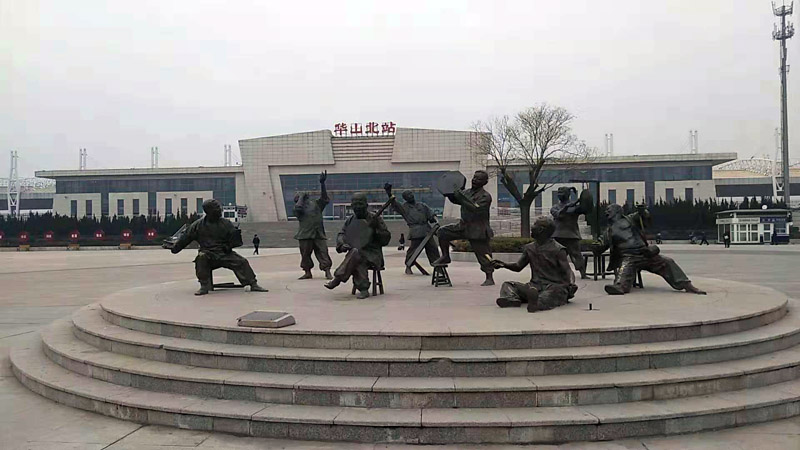 Huayin Lao Qiang, staged by small groups of performers, is China's very first officially designated national intangible cultural heritage. Created during the 16th and 17th centuries, this art form is today preserved and sustained only in the area of its birth, in Shuangquan Village at the confluence of the Yellow, Wei, and Luo Rivers. The art form was originally developed and exclusively performed by the Zhang clan in that village as the musical accompaniment to shadow puppet performances, which is why it was known colloquially as "Shadow Lao Qiang". Most of their music revolved around folk stories from the Three Kingdoms period and was performed as travelling musical theater. Over the following centuries, new musical numbers were added and in 2003, with assistance from the national Ministry of Culture, Lao Qiang began to be promoted as an art form on its own and finally emerged as an art form coequal to shadow puppet theater. Women spindle players and tote-bag wearing musicians on clappers were added to further enhance the folksiness of the Lao Qiang lineup, creating the Lao Qiang lineup we all know and love today.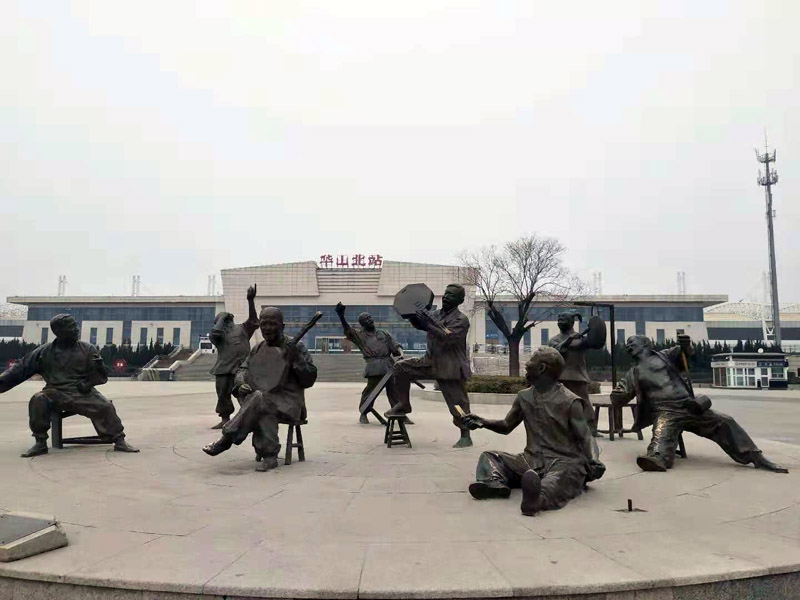 The five main characters in the Lao Qiang genre respectively handle the five roles of traditional Chinese theater. A so-called 'front man' take center stage, narrating the drama as it unfolds while plucking a four-stringed banjo. He is the heart of the performance. Behind the front man, a gong player performs various martial moves while giving the occasional shout and singing backup. The two-string banhu player provides a vocal bridge between main songs, plays air horns, sings backup, and whistles. The 'zuo dang' handles the choreographed fights, plays wooden clappers, and gives supportive shouts and calls as needed. Each troupe makes its own instruments, with which they use to merrily accompany their repertoire of songs. Their performances "tell a thousand stories" and "animate epic battles." "Their shouts awaken the river dragon and change the course of the mighty Yellow River."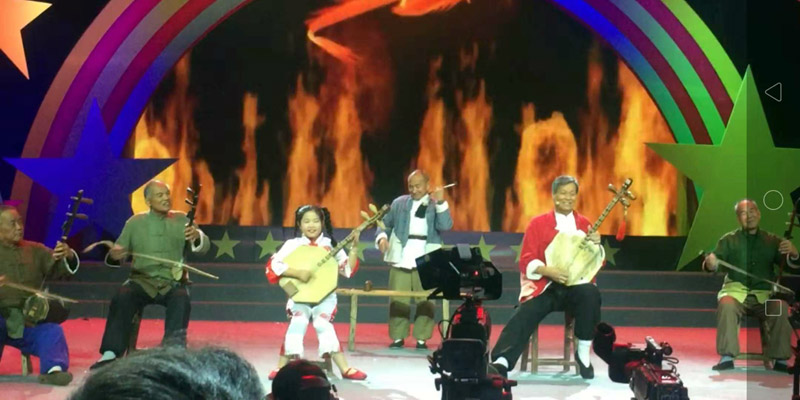 I first attended a Lao Qiang performance last year with my mother. Before it began, the stage sat empty except for a few lonely benches. Then, following a thunderous shout, a group of farmers in mandarin jackets carrying a motley array of instruments made their energetic entrance. Two sat on the ground, with the one holding a two-stringed fiddle and the other acting as the troupe's percussion section with a set of homemade coconut shells and bells. In the middle sat a white-haired, red-faced elderly man holding a hexagonal four-stringed banjo. While one sang the lead, the rest provided backup vocals. A question from one side was answered from the other. The atmosphere reminded me of the lively conversations that regularly take place in rustic village alleyways. Boisterous fun accompanied rousingly raucous music. There were smiles all around. Heads bobbed, the excitement was palpable, and everyone engaged with convivial vim and vigor. The scene was electric. A lively old man in his sixties, holding wooden clappers in one hand and a bench in the other, made his way to the front of the stage. He quickly set the bench down on its four legs, then suddenly set it onto two. As he shifted things around, he beat various parts of the bench with his clappers, creating a fresh-sounding, crisp and sonorously rhythmic beat. To rouse the troupe to life, he powerfully swung his arms in a circle over his shoulders as if striking an oar on the banks of the Yellow River. As their song reached a crescendo, all onstage looked upward, giving a spirited bellow and stomping on the stage. The nearly one-hour performance resembled that of Qin Qiang in its use of top-of-the-lung, intense vocalizations – loud enough for those on the opposite side of the valley to hear and join in the fun. It was an intensely moving performance for me! If I hadn't experienced it myself, I couldn't have ever imagined such an event. How could everyday farmers like these create such stirring performances with their unpretentious collection of string and percussion instruments? How did uncelebrated, unremembered farmers manage in their spare time to string ancient songs and stories into an earthy art form of Shaanxi that has since not only survived but also found a welcoming spot in the limelight of modern-day urban theaters and CTV's soundstage? What gives Lao Qiang its impressive energy and staying power?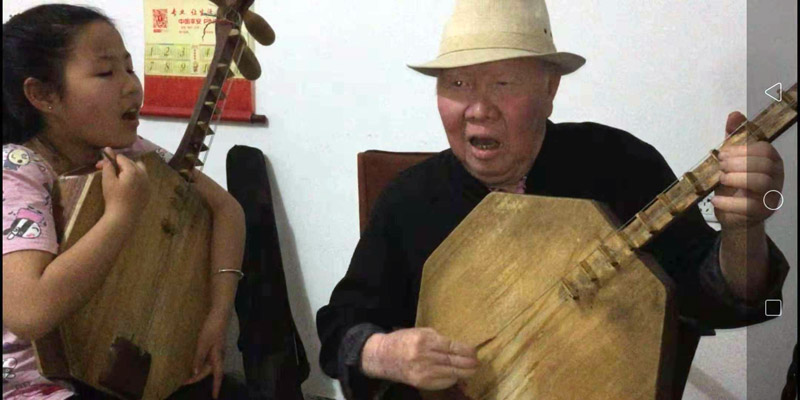 On the trip back from the theater, we got to talking more about Lao Qiang theater. I remarked at how the show's energy and vigorous vocals could transport audiences back in time to China's epic battles and the experience of bitter, hand-to-hand clashes between armies. It revealed the ruggedly strong and tenacious character of the people of Shaanxi. "I loved it!" I said. Mom replied that the performance was "upright and sonorous, majestic in character, and powerfully penetrating and that its singing style reflects the joyful impulsiveness that typifies the people of China's northwestern provinces. I loved it!" My grandfather then joined in, saying, "the music of Lao Qiang is simple yet moving, dignified and sonorous, and rough and unconstrained. It is," he added "a nostalgic echo from our past. It encapsulates the original cultural ecology of the Yellow River. It is more than narrative and more than song. It is a testimony to personal experience performed with heart and soul … with every ounce of the performers' energy. It never fails to touch me deeply and I've loved Lao Qiang for decades!" Truly, this majestic art form has passed from generation to generation, touching countless along the way.
Soon after this first experience with Lao Qiang, I went with my mother to the home of Wang Zhenzhong, the white-haired four-stringed banjo player. I passed his evaluation and became his apprentice. After practicing the banjo for over a year under Wang's strict, hands-on tutelage, I gradually learned to play those alluringly moving melodies on a two-stringed fiddle. Following my master's example, I practiced again and again those magic old Lao Qiang tunes. Today, his phone call once again reminded me of his concern for me, of his worries about the future of Lao Qiang theater, and of the hopes he has invested in me. Memories of him singing "Peach Blossom Face" flooded back into my mind -- "Last year today on this very doorstep, a face and a peach blossom shone as one. While the face is now gone, the peach blossom smiles once more in the spring breeze …" Tears streamed uncontrollably down my cheek. I pulled my fiddle tightly to my chest and sat down by the window …   

Reviewer I
The flow of the narrative, starting from eight statues in front of the station and progressing through the Lao Qiang performance and the story of its origins, is pleasingly comprehensive and vibrant. The author further adds his own experience, introducing the idea of sustaining this art form for the enjoyment of future generations at the conclusion to provide this essay with a beautifully relevant cultural angle.


Reviewer II
1) The collection of statues in front of Huashan Station is both an exceptional work of public art and a spotlight symbol of Shaanxi's Lao Qiang performance theater heritage. In addition to introducing the historical background and performance stylings, the author carefully explains the vocalization techniques and various roles and musical instruments involved. Attending a performance impressed the author in terms of the vigor with which the troupe's farmer-actors presented the stories and the intensity that they invested in their performance art. To help ensure the survival of this living art form, the author became a performer's apprentice, repeatedly practicing musical numbers and investing her love of Lao Qiang in her performances.
2) The unique topic of this essay highlights heritage theater as facet of local character. Engagingly innovative.