The Fourth Original Writing Competition
Senior High School Group
Platinum Award
Written by
Zhang Jingyang, Pujiang Datang Nine-Year System School, Sichuan Province, China
Date: March, 2018

Before the ink on my brush had fully dried, I walked up to the teacher's test book, but then walked hurriedly back toward my seat. Even though so much time has passed, I still believe that it is just such awkward encounters that end up delivering the greatest happiness and satisfaction. It was just so for that instance, when that pool of deep cyan dazzled before my eyes.
The teacher's eyes passed over me and I could see they conveyed a knowing smile. He told me, "This is a special ink stone called puyan." "Oh! … This is puyan," I repeated.
The pens and pencils that now dominate my everyday life had pushed aside my memories of those magnificent days spent in the study with a myriad of traditional 'treasures' of the calligraphic arts. Even now, every encounter brings unbridled pleasure.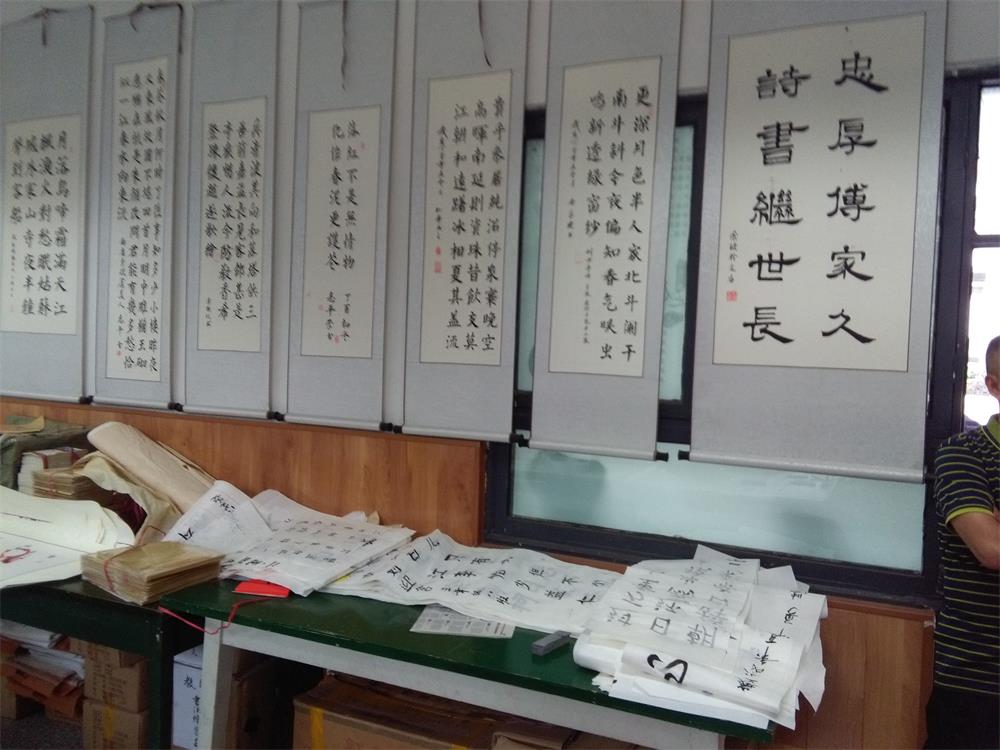 I remember when I first heard the word 'puyan'. It must have been many years ago, because I was told about how this stone, upon which ink wouldn't freeze, was presented to 12th-century scholar Wei Liaoweng. He used it throughout his career as an imperial official and as an educator at Jianheshan Academy, and stories of him and his beloved ink stone became legend. Puyan ink stones became associated with almost magical powers, the stories of which lived vividly on in my young imagination.


The name 'puyan' comes from the stone material, which is mined near the Pu River in Sichuan Province. These ink stones are made locally and thus bear both the natural energies of the region and the sweat and blood of Pu River craftsmen. Every element of a puyan ink stone comes from the Pu River region and embodies the heart and soul of its artisans. Native rock is chiseled, steamed, and expertly worked into something that has been described as being "on par with gold and jade, and as fine as silk."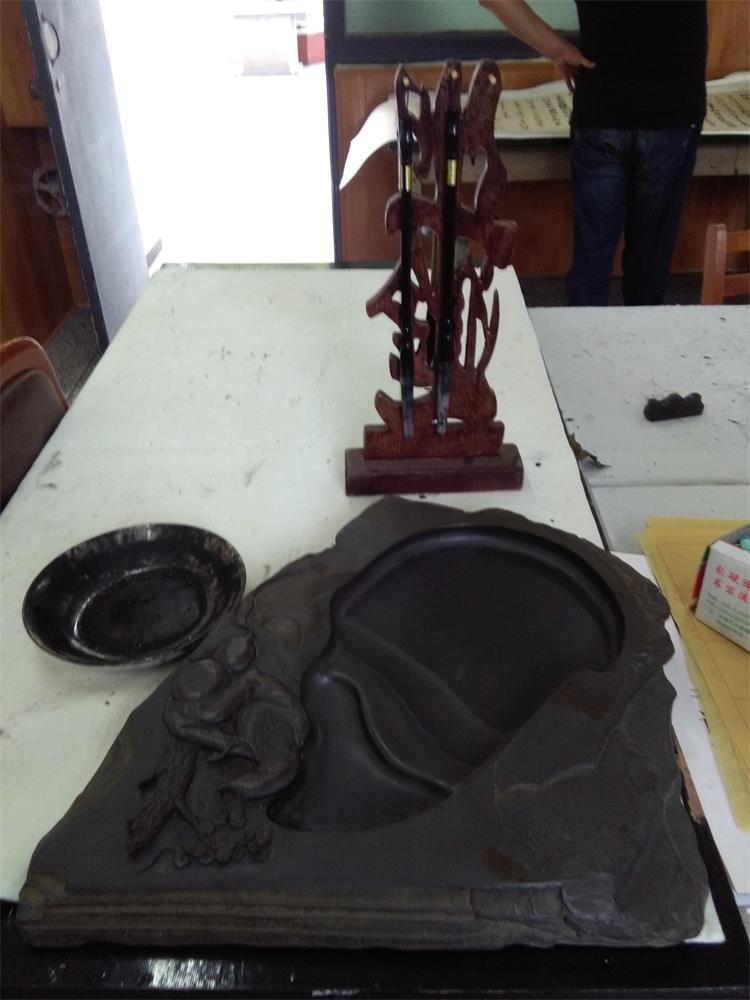 Now, this fabled ink stone had appeared before my very eyes. No one stopped me from getting close and touching it … feeling it … letting its spirit entangle with mine and listening to its whispered stories of millennia.

"As you like it so much, you can help rub new ink." My teacher's words fell like sweet rain and fulfilled a deep desire. Previously, I hadn't dared even to touch it, much less run my brush across its surface. I didn't know. I was afraid I my calligraphy wouldn't be worthy. Elders always say that the young simply don't understand these things. Afterward, my every encounter was filled with regret and shame. But now … it was sitting directly in front of me. I could use it to rub new ink. I sensed its true value.

The ink dissolved in expanding circles on the stone, ultimately creating a deep, rich color. I perceived the satisfying scraping noise the dry ink made as it scratched against the stone. I saw specks of dust from the air floating along the surface of the liquid ink. I saw the true face of puyan ink stones.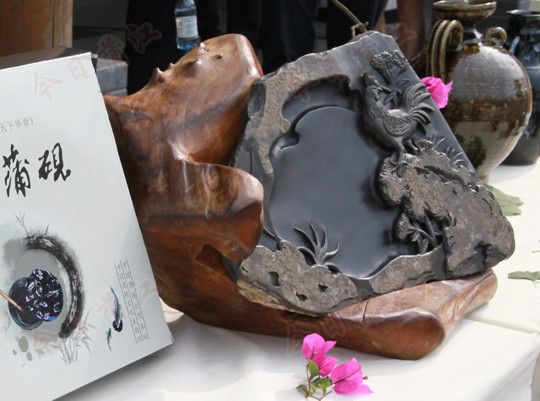 The scarcity of the stone and the intricacy of craftsmanship make puyan ink stones precious. Despite their resilient popularity among pen-and-ink aficionados, ink stones have not been able to hold their own against modern ink and marker pens. It's not that people no longer like pen and ink, they are no longer used to it. They aren't used to spending the time to rub the ink and no longer adept at using brush pens. Once relegated to obscurity, ink stones are now finding new favor. Like in the days of Wei Liaoweng, puyan ink stones offer a new perspective on the world. Although they will never be everyone's 'cup of tea', I will always be able to find people of a similar mind with me, who also enjoy doing what I do, and we will create our own path in life.

I'm actually not sure how long I spent rubbing the ink. I just know that when I came back down from my cloud, the teacher had long since stopped dipping his brush. He looked at me smilingly and said, "I think you've probably already heard that story." He seemed almost as if he might be talking to himself. "Yes," he said, "You've certainly heard it before."

I didn't know why, but I felt a gush of pride after hearing my teacher's opaque utterance. I realized that others knew the story that, until just then, I thought no one else knew. Maybe that was how it had always been. From Wei Liaoweng's academy forward, the story has been told by one to tens, then by tens to hundreds and so on across time and the world, all the way down to the present. That story of the ink that wouldn't freeze tumbled forward as it passed from generation to generation, creating a continuous stroke of deep cyan through history.

I finally remembered my first encounter with puyan and how an elderly man artfully wielded his brush, setting ink flowing across rice paper and forming words that I was yet too young to recognize. A patch on his shirt read "Pu River Calligraphers' Association". I stood in fixed amazement, wondering how such handsome characters could arise from the pool of cyan-colored liquid in that ink stone. After finishing one piece, the old calligrapher smiled at me and said: "You know, little girl? It is said that during the Southern Song Dynasty …" At that age, I just remembered the magical bits of his story and that rich, cyan-colored ink stone.

The next time I saw that ink stone, it came with a description in three languages after having gone on world tour. Puyan ink stones are rare and expensive, they said. They also said they are truly special. I've since read all of the references to puyan ink stones in the book "Pujiang County". I know, because of this ageless treasure, the road ahead is paved with ink and this fills me with pride.


Reviewer I

The aesthetically interesting topic connects the author's study of pen-and-ink calligraphy to the puyan ink stones that are a special heritage product of her region. Moreover, the author aptly describes her pride in learning that ink stones from her hometown have been shared and appreciated by the world. The structure and verbiage further enhance this essay's original presentation.


Reviewer II
This essay proclaims its uniqueness from its opening paragraph. The author lovingly details in the elegantly crafted narrative what makes puyan ink stones not only special but also a cultural treasure. This essay reflects both pride and deep understanding of hometown heritage.