The Fourth Original Writing Competition
Junior High School Group
Platinum Award
Written by
Wang Shuo, Cangxi Chengjiao Middle School, Sichuan Province, China
Date: March, 2018

Every ancestor-worship ceremony at our house invariably features a plate of 'sour-curdled tofu' on the spirit table. It is a dish made of locally made vegetable preserves and soybeans. Our vegetable preserves differ from regular pickled vegetables. Radish or cabbage leaves are first fermented to produce significant quantities of lactic acid bacteria. The leaves turn dark green, while the surrounding acidic water turns syrupy and greenish yellow in color, giving off an instantly recognizable, vinegary aroma. Tofu soaked in this water becomes delightfully soft, tasteful and healthfully invigorating. Sour-curdled tofu is a favorite in our region. The intricate chemical reactions that occur from the making the vegetable preserves through to infusing the tofu and forming the finished product testify to the wisdom and perseverance of our ancestors and to our proud national heritage.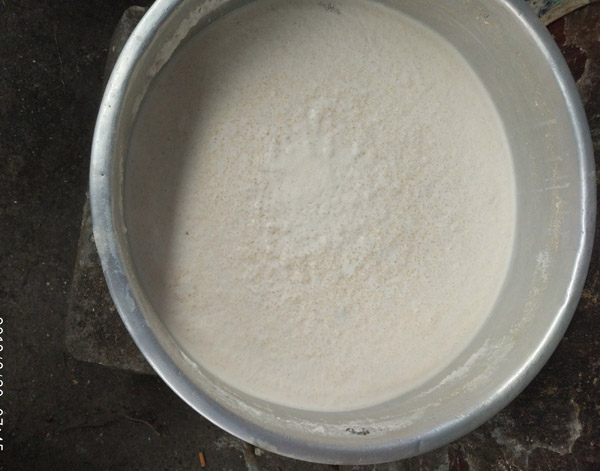 Our small city of Cangxi, cradled in the mountains, was spared the unrest, upheaval, and war that were rampant across much of China in the early 20th century.
My great-grandmother was a genuine country girl. She was from a small village beneath Mt. Baihe on the banks of crystal clear Jiuqu Stream. Families in this village had farmed for countless generations. My great-grandmother became the main provider for her family at an early age. Her mother was not well and her siblings were still very young. Thus, marriage was something in her life that kept being delayed due to other, more pressing priorities. Others in the village mocked her, saying she was destined to be an unwed spinster.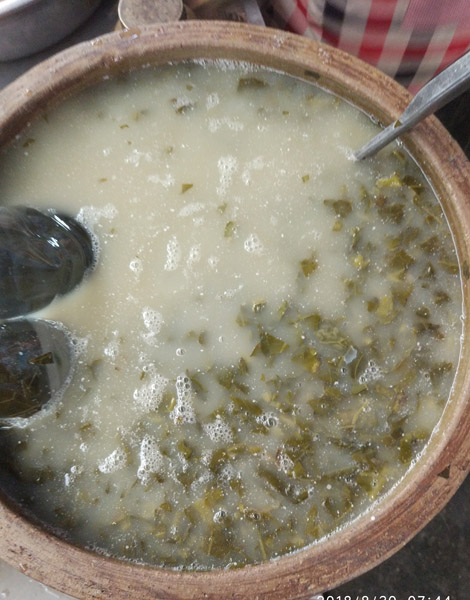 For her part, my great-grandmother had no time to worry about such matters. Every morning, long before sunrise, she would carry water from Jialing River to grind soybeans into tofu, which she would hurry to sell at market before breakfast. Getting to market involved a long walk fraught with potential dangers over a mountain trail in the dark. She was, of course, dog-tired by the time she got to market. But, great-grandmother did a good business. Back then, people didn't have much money and many couldn't afford meat. Tofu was a popular alternative as a regular source of protein.


Cangxi's largest school, Heshan Academy, stood across the street from my great-grandmother's tofu stand. My great-grandfather was one of the few students from poor families studying there at the time. He was driven by a desire to get an education and then work to change China's future. One morning, my great-grandmother, arriving as usual to market, saw a young student lingering around where she usually set up her stand. My great-grandfather, it turns out, had missed a number of meals by this time. His face was pallid and he was malnourished. "Mister … Hey mister!" she said. "Come over here." He walked over to her and, once he laid eyes on the powder-white curdled tofu in her bamboo basket, he had a hard time looking anywhere else. My great-grandmother sized up this skinny, famished-looking young man with his armful of books and said, "I'm offering free samples. Would you like some?" Working as hard as he could to hide his hunger, he shook his head and walked off. My great-grandmother called after him. "Hey mister! Can you teach me to read and write? I can pay you a catty of tofu each day as tuition." My great-grandfather, more than happy to take up her offer, gave a strong nod of approval.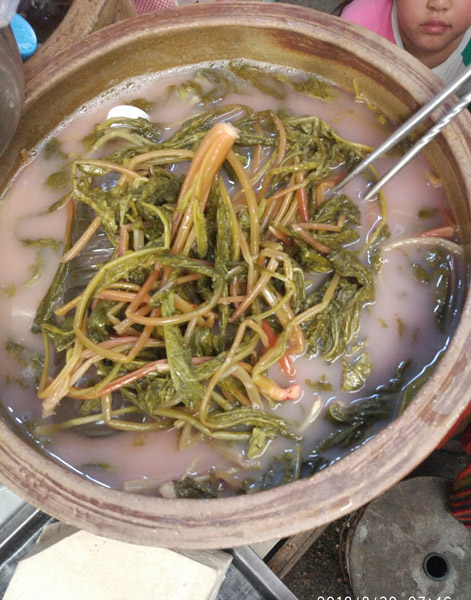 That was how it all started. A half a year later, just before Chinese New Year, they married. My great-grandfather, a student with barely a few coins to his name, took a bride - my great-grandmother "the spinster". Celebration reigned supreme.

Two years later, my great-grandfather joined the military. Before leaving he swept my then-infant grandfather in his arms, kissed his baby son on the cheek and hand, and gave his foot a tender rub. Great-grandmother, fighting back tears, said to him. "Go with our blessings. I will always be here!" Great-grandfather wrapped her and their son in a warm embrace. He did not want to let go.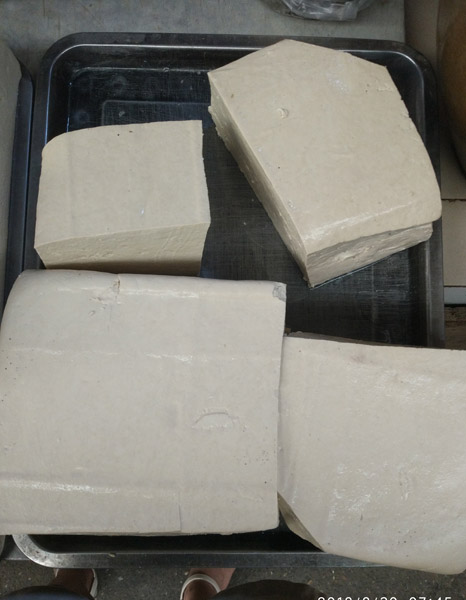 After my great-grandfather had left, my great-grandmother became the sole breadwinner for the family. She still carried sour-curdled tofu to market every day. The family scrimped and saved as much as possible to make sure that there was enough left over to send grandfather to Heshan Academy, which had only recently been renamed Cangxi Middle School. After he graduated from university, he returned to Cangxi Middle School as a chemistry teacher. He worked there until he retired. As for my great-grandfather, his parting hug was the last memory the family had of him. No news came. Some said that he had died in battle. Others said that he had gone to Taiwan. The family never moved to another house. My grandfather kept the family name. It was my great-grandmother's wish. She wanted great-grandfather to be able to find his family if and when he returned. Actually, there was another pillar of our family that also never changed – sour-curdled tofu. It continues to be a perennial staple at family mealtimes, year in, year out.

In the 1990s, a letter postmarked from Taiwan suddenly arrived at our doorstep. It was from my great-grandfather! After a long and circuitous journey, his letter finally arrived. Grandfather held the letter in his hands, tears streaming down his face. While reading the words out loud, he choked up and couldn't continue after reading the words, "I so fondly remember my wife's handmade sour-curdled tofu. Its memory will be with me always until death."

Time unremittingly passes and the wheels of history grind dispassionately forward. That letter and sour-curdled tofu are our family's most prized possessions. These past years, my father has been working diligently to set up a business to sell our sour-curdled tofu online. Perhaps one day, compatriots in Taiwan may be able to buy our Cangxi sour-curdled tofu with the click of a button. Our family's deep, multigenerational relationship with sour-curdled tofu promises to continue still for generations to come.


Reviewer I

The author's vivid descriptions make it seem to the reader that events are unfolding before her or his eyes. The story flows fluidly, the narrative builds naturally, and the appeal is genuine. Dialogue is simple and natural. Commonplace events are elegantly wrought into an epic story of family history. This, which on its surface gives every appearance of the everyday, pulsates with deeply rich meaning in every sentence and paragraph. I was truly moved!


Reviewer II
This essay adopts sour-curdled tofu as its literary motif. What one expects to find plated at mealtime is here intermingled with space and time to tell the story of a love spanning both sides of the Taiwan Strait. It is a story of China and Taiwan, past and present. The author's natural writing style certainly 'spoils' the otherwise sour taste.