The Fourth Original Writing Competition
Junior High School Group
Platinum Award
Written by
Zhang Xiaoyu, Qianjin Road Middle School, Shaanxi Province, China
Date: March, 2018

Have you ever set eyes on the majestic Yellow River? Did you know that the Wei is its largest tributary? Have you had the good fortune to experience for yourself the 'heart' in the ruby-red dress?
A river called the Wei flows across the East. Here also in the East is a city known as Weinan. In an out-of-the-way, unremarkable corner of Weinan City is an area called Hancheng. What makes "unremarkable" Hancheng remarkable, however, is that it produces one of China's most highly-prized peppercorns, the tingly numbing, lightly lemony da hong pao or Sichuan peppercorn.
When you bite one of these peppercorns, the numbing, astringent effect moves quickly from your tongue to your entire body. For many newbies, the shock is enough to send them scrambling to gulp down several mouthfuls of cool water. But the remedy invariably does nothing and the numbing, astringent effect lingers on before dissipating of its own accord. Its fragrance conveys undertones of aromatic lindera woven into complex savory peppercorn notes. These two distinct smells are surprisingly not unpleasant. Holding the peppercorn and pressing it down into your hand shows how surprisingly hard it is. Pop it in your mouth, and its distinctive numbing and astringent qualities will quickly show themselves, giving you the urge to spit it out posthaste. Seeing how the peppercorn sits robed in a ruby-red shell, only one description for this unique spice leaps intuitively into the mind – the "heart" in the ruby-red dress.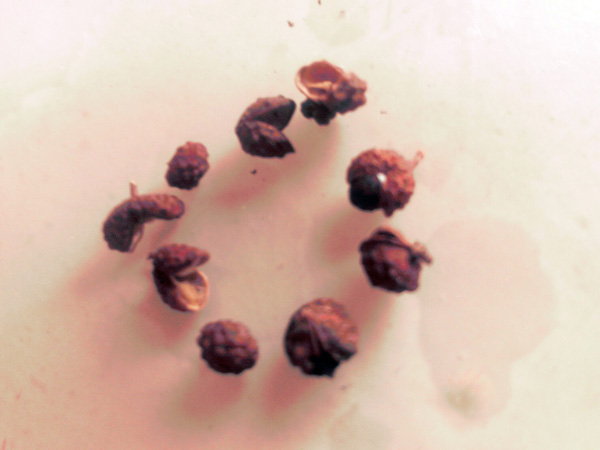 Anyone who is more than a casual chef knows that Sichuan peppercorn refers to the shell that surrounds the seed rather than to the peppercorn seed itself, which is noticeably absent from kitchen spice racks. This is because the seeds are ground into powder. The flexible shell, however, isn't easily ground up, so most of the 'Sichuan peppercorn' available on the market is actually just the shells. However, peppercorn seeds pack even more flavor than their shells.


The climate in Weinan is far from ideal, with bitterly cold winters and torrid summers. Even so, Sichuan peppercorn trees not only survive, but thrive, consistently producing their distinctively flavored seeds year after year.

The residents of Weinan are a lot like the Sichuan peppercorn. They are as benevolent as autumn, as warm as fire, and as straight as a poplar tree. They are unyieldingly resilient and down-to-earth honest. The tenacity of the women of Northern China is like the remarkably resilient shells of the Sichuan peppercorn, while their eclectic and candid nature is like the enduring fragrance of the fiery Sichuan peppercorn seed. It may not be pretty, but it draws endless sustenance from the sun; It may not be charming, but it strives to persevere; It may fall short in glamour, its luster is long-lasting.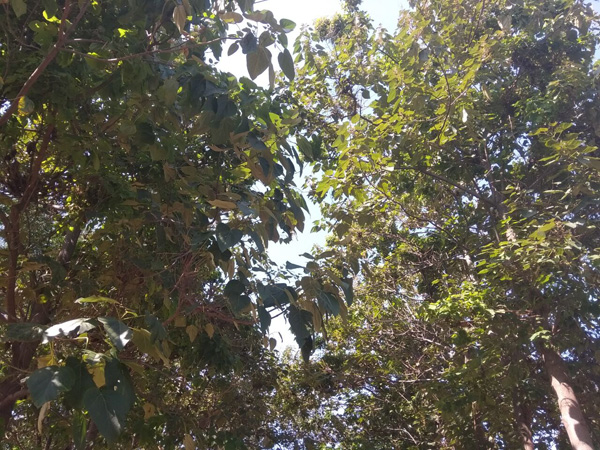 The Sichuan peppercorn also resembles the people of Northern China. It has been said that, "People reflect their environs." The waters of the Wei River nourish both Hancheng's da hong pao and the people of Weinan. Peppercorn shells resemble the hardship-wrought, oft-frustrated people of Northern China, while their numbingly astringent seeds, the "heart" inside the ruby-red dress, are like the passionate hearts that pound within the iron-like ribs of Weinan's people. While it may not look impressive, it burns with passion; While it may not be comfortable, it is strong; While it is certainly not the "belle of the ball", it celebrates its singularity. Its unique and stubborn nature gives it a brilliance all its own.

A Sichuan peppercorn tree stands in front of our family home. As a child, I loved to eat Grandma's peppercorn eggplant, made with fiery-hot, red chili peppers, numbing and fragrant Sichuan peppercorn, and fresh and tender eggplant. Together, they danced on my tongue in exquisite flavor. Memories of Grandpa, Grandma, and me gathered around a delicious plate of Sichuan peppercorn eggplant encapsulates my childhood perfectly. I've since grown up and left the countryside to study in the city. What I miss most is my family, gathered together at mealtime, enjoying a plate of peppercorn eggplant. I've tried to make this dish myself, but it's never as good as Grandma's. Only after leaving home for middle school did I learn that the secret in Grandma's classic dish was not only Sichuan peppercorns. There was her love as well. With Grandma growing older, I was determined to perfect authentic peppercorn eggplant. But, heaven doesn't always listen to the wishes of mere mortals. My efforts not only didn't look right for sale, the dish had a bitter taste. Grandma clipped up a piece and put it in her mouth. A smile of delight spread across her face, as if she were thinking, "Delicious!" I was dumbfounded until I came to my senses, realizing the truth. This was her way of encouraging me … her implicit love. Although my grandmother isn't highly learned, she made it crystal clear – the 'heart' beneath that ruby-red dress beats with love.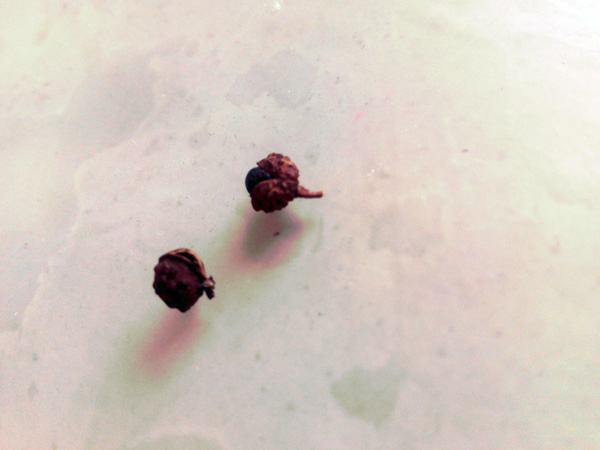 This daughter of Weinan has a heart that beats with passion. The seed of the da hong pao has a taste all its own. The 'heart' of the Sichuan peppercorn is resolute, solid, unyielding, tenacious, and full of love, just as the children of China will forever remain strong in their unity. We are all children of the Yellow Emperor. We all possess that 'heart' beneath the ruby-red dress.


Reviewer I

This essay unveils in layers the scenic and emotional landscapes of the author's hometown with special focus given to the hometown specialty product – Sichuan peppercorn. What makes this essay particularly stand out is that, while Sichuan peppercorn is a ubiquitous item, its flavors are influenced by the land, climate, and weather. The essay exudes honesty and the narrative flows well. It is a particularly commendable work.


Reviewer II
In using Chinese Sichuan peppercorn's well-known fragrance, spice, and numbing quality to describe Weinan City on the banks of the Wei River, the author's style is as august as it is irresistibly enticing. Moreover, adopting the natural qualities of the Sichuan peppercorn to portray the tenacity and forthright passions of Northern Chinese women successfully delivers consummate comparisons and an emotionally charged essay.