The Fourth Original Writing Competition
Primary School Group
Platinum Award
Written by
Cheng Siwei, Central Elementary School, Dahe Township, Sichuan Province, China
Date: May, 2018

A shoulder harness, a walking stick, and a length of sturdy rope are all the tools you require to make a living. A set of playing cards, a smoking pipe, and a song are your entertainment away from the drudgeries of work. A water jug, a handful of pickled vegetables, and sesame-seed husks feature prominently in your extravagant meals. Running goods across the mountains and rivers of Sichuan, your aching, scarred shoulders and backs are a blessing on the people of Bashan. We salute you – our runner brethren of Bashan!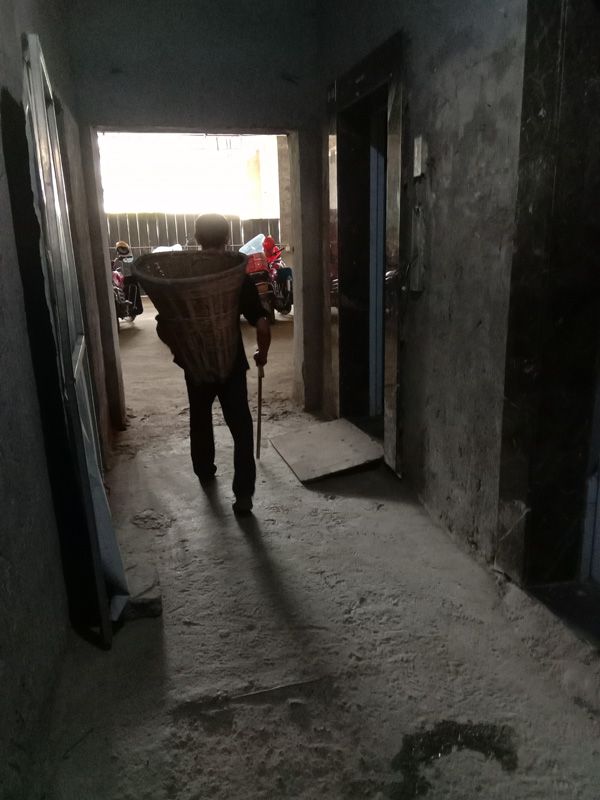 My parents began taking me with them into the city when I was still quite young. We would deliver rice and vegetables grown on our farm to relatives there. As we arrived, I remember seeing people clad in mud-stained, dirty clothing with bamboo baskets strapped to their backs and walking sticks in their hand surging toward us. "Hey Boss! Heavy load? I'll carry it for you!" … "Let me help! Boss, I'm strong!" … "I'm worth it … Let me help!" My father called one of the elderly 'runners' over. Everyone else was picking the young, strong ones. What was Dad thinking? … Mom's expression told me she was wondering the same thing. Dad smiled and said, "We don't have a lot to carry, and someone of his age wouldn't be doing manual labor if his family weren't in need. It's hard enough to make a living."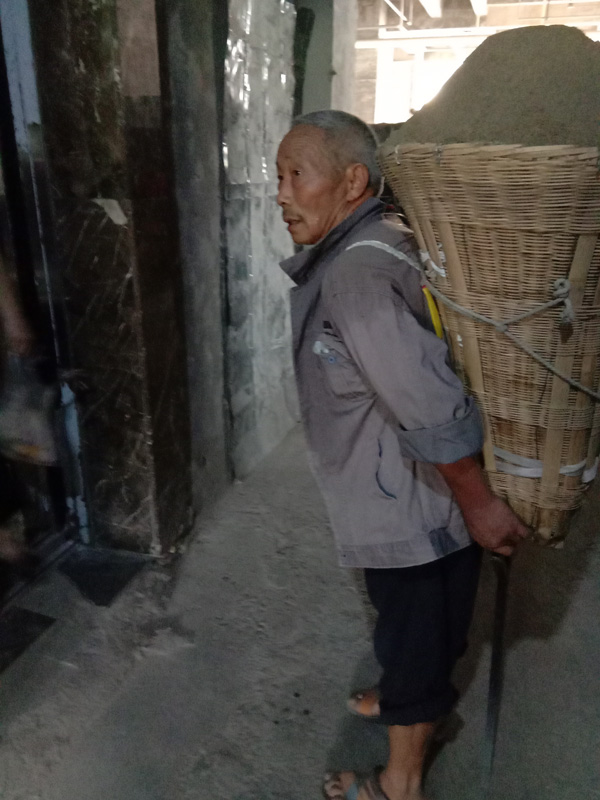 A cold wind followed us the entire way, shaking leaves from the trees along the road. Mom couldn't stop holding me close. Dad's hands were both occupied holding some of our lighter packages. Only our heavily burdened 'runner', bent over with our cargo on his back and supporting himself with a walking stick, seemed unaffected, walking spryly onward to our destination. As he walked, he kept us engaged in conversation. I remember him saying that his wife was laid up in bed, seriously ill. They needed money for their son's tuition. Although his own health wasn't so good, he had to make a living. Afterward, I remember he let out a good chuckle. His load wasn't overly heavy; nevertheless,climbing the stairway at the end of our journey, I could see the strain on his face and hear him gasp for breath. Perhaps it was due to his age. At each floor, he would stop to rest, draping himself over his walking stick, creating in my mind the shape of a "T". After resting, he called out "Yo Ho Way! Huzzah!" to steel his resolve and then proceeded up the next flight of stairs.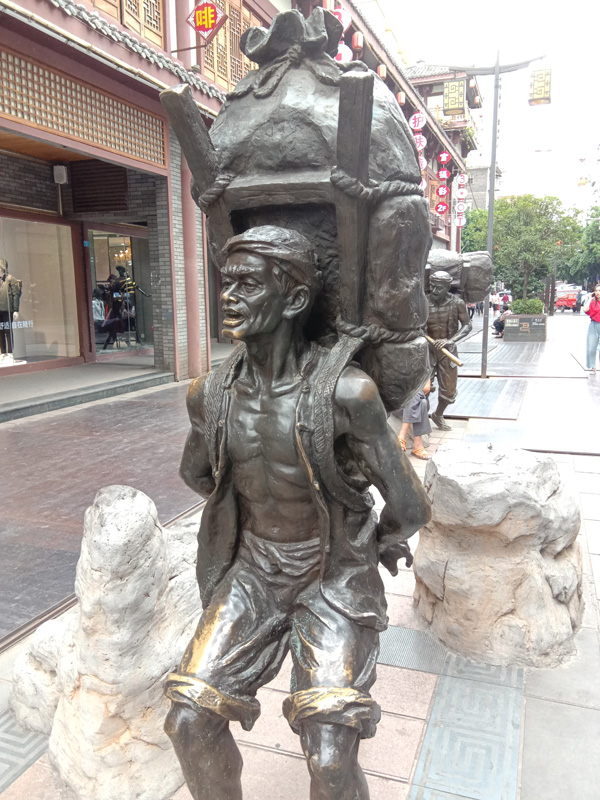 Despite his own exhaustion, he still offered several times to help Dad carry his things and give him a break and said that Mom shouldn't be left to carry a child like that on her own. Both politely declined his offers. His performance that day left me with a model example of a good person. When our relative's home on the third floor had finally been reached, our 'runner' carefully removed our parcels from his basket and, one by one, brought them into the apartment, clearly afraid that he might dirty our relatives' floor. Finished, he raised his head, revealing his sweat-drenched face. His age-worn face clearly bore the marks of a hard life. He quickly pulled up his sleeve and wiped dry the sweat that clung to his brow. He let out a sigh of relief and gave us a smile.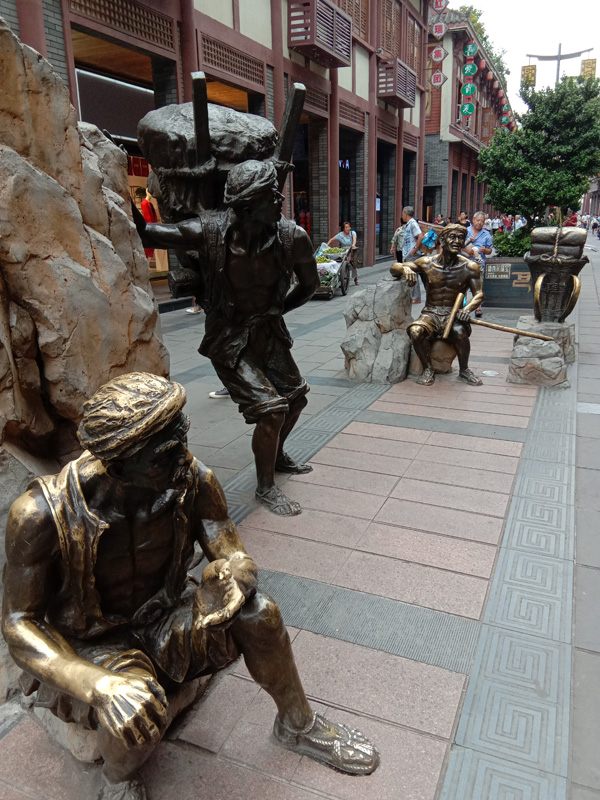 "Boss, you paid me a yuan more than we'd agreed to. We agreed to 5 yuan." He spat in his hand and counted the bills carefully again, several times.
"Uncle," my father said, "the building is several floors high. I added an extra yuan for your trouble."
"Thank you for your consideration," he replied, "but we agreed on a price, and I won't take a fen more. A man is worth no more than his word! Although what I do is manual labor, I make an honest wage for honest work. I can live with that." He pushed the extra yuan back into my father's hand and let out a hearty chuckle. Although I didn't understand at the time, what transpired that day touches me deeply now.

Back then, transportation was painfully slow in Bashan. These 'runners' who took on the role of human vehicles, moving items of all shapes and sizes past cliffs, over rivers, and through brambles and forests, made a truly enduring contribution. Vast improvements in the transportation network have greatly diminished the need for 'runners'. However, in those corners of populated areas still unreachable by car, people still use the services of 'runners'. Throughout the day, they traverse the streets and alleyways from before dawn to well after dusk. Never complaining of fatigue or bemoaning their lot, they use their labor and their attention to detail to earn a meager wage.


To promote and pass on the distinctive and honorable heritage of Bashan's runners, the government erected on Caoba Street in Bazhong City a bronze statue dedicated to the "Runners of Bashan". It has already grown into one of the city's scenic attractions. Also, an original theatrical production entitled "Runners of Bashan" was recorded and broadcast on SCTV and China Central Television. Finally, the runners of Bashan have been officially recognized as a national intangible cultural heritage by the State Council.


Hard working and courageous, tenaciously facing hardships, sincere and plain-spoken, outgoing and optimistic, the spirit of the "runners of Bashan" should be passed on from generation to generation. The runners of Bashan are the embodiment of our Bazhong City spirit of "Better Do than Endure". They are the strength of Bashan's sons and daughters; they stimulate us to keep striving forward; their image will always live on in the hearts of the people; their stop-at-nothing spirit shall always inspire the sons and daughters of Bashan confidently forward into the future.  


Comments of Reviewer 1


1) Bazhong City's most compelling scenery is the hardworking services provided by its Bashan runners. They cross the Bashan landscape carrying civilian goods and delivering provisions far and wide. Although they exchange their scarred shoulders and backs for a meager wage, they never bemoan their difficulties or weariness. These runners made their most outstanding contributions at a time when transportation in the Bashan area was still woefully inadequate. The author approaches the topic using a personal experience, when his father hired a runner to transport a load of fruit and vegetables. The hardworking, honest, plainspoken, and inveterately optimistic image of the Bashan runner has long taken root in the heart of every citizen of the Bashan region.


2) The narrative describes the stop-at-nothing spirit of these runners as encapsulating the spirit of Bazhong City. Rousing morale and encouraging bold steps forward, their example is worth studying for generations to come. The essay is cogent, powerful, and sincere. A worthy example of positive motivation.


Comments of Reviewer 2


Portering, an ancient profession, compensates participants for manual labor done. However, few write down their stories to be passed on through the generations.This essay, which describes the hardworking spirit, sincerity, and upright character of an elderly Bashan runner, is excellently narrated, vividly developed, and quite touching.