The Third Original Writing Competition
Junior High School Group
Platinum Award
Written by
Gong Changpeng, Guozhen Secondary School, Shaanxi Province, China
Date: December, 2017
"Knowledge is the key to wealth" is an oft-told axiom. Books provide endless opportunities to spend time with great minds and with those who lived years before our time. Books silently and imperceptibly mold our nature, while opening our eyes to the world around us. Indubitably, multiple benefits are to be had from reading.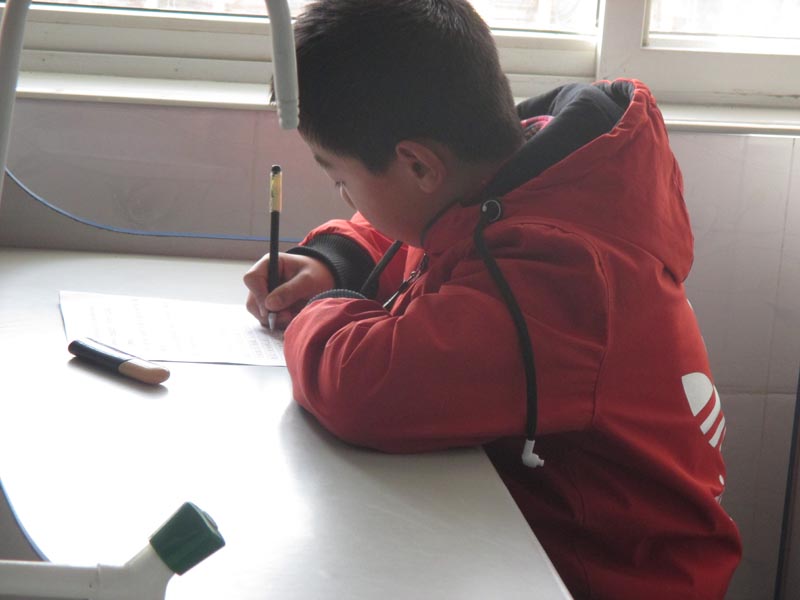 I love to read. I read when I'm sitting, while I walk, … even while I'm crawling around or lying down. I have a preference for fairy tales and works of fantastical fiction like the works of Hans Christian Andersen, One-thousand and One Nights, and Harry Potter. I seem unable to let any good read pass me by. I read voraciously and plow through each story with giddy abandon. I set my personal record when I finished a novel in just a few hours. Tao Yuanming, a renowned reclusive poet of the Eastern Jin Dynasty, wrote in Master Five Willows that he 'delighted in study, but eschewed chasing the inner profundities.' This description fits me perfectly.


My book-reading habit hasn't come cheaply. Even the least expensive books cost over ten yuan and, at the expeditious rate that I consume novels, you can imagine that reading weighs excessively heavily on my allowance money. However, for me, I'd sacrifice nearly all of life's pleasures to make sure my home was filled with books. How could I do otherwise? I first turned to my parents for support. Although they were willing contributors at first, over time, they no were longer willing victims to my habit. Facing a brick wall, I knew I would need to come up with a 'plan B'. I remembered how Lin Yinhai, another lover of books and reading, had regularly cloistered herself in bookstores to read. She would always look forward to those days when the downpour outside was heavy enough to allow her the excuse to tarry later in the shop before returning home. 'That's right,' I thought. 'I could be like her and peruse the books there!


We had just several bookstores in our area. Looking into the window of the Xinhua outlet, I saw rows of books on literature, children's stories, and fantasy organized neatly on the shelves. I surveyed the shop a bit longer and saw no one apart from a few shop employees. Striding forward, I entered, passing by the indifferent Xinhua manager just inside the entrance. My heart soared with glee. I made a beeline for the children's stories section, pulled out my favorite, The Stories of Hans Christian Andersen, and began to read. The delicious banquet dreamed by the little match girl made my stomach grumble, the repugnant emperor tickled my funny bone … "Hey," a voice, crisply annoyed, stirred me from the pages. "Are you going to buy it or not? I'm getting ready to close up." No! I thought. The 'truth' behind this emperor's new clothes had been exposed, and I, red-faced with embarrassment, shuffled out of the bookstore.


My failure with plan B led to the birth of plan C. If I couldn't tap the wealth of bookstore shelves, then certainly I could trade my books for others! After some difficult pleading and prodding, I eventually traded some of my books for my classmates' copies of Maxim Gorky's My Childhood, In the World, and My Universities.


My passion for reading upset my father. Before falling asleep at night, I would surreptitiously reopen my books and, under cover of darkness and behind closed doors, continue my reading. I was oblivious to all beyond my nighttime sanctuary … the torrid heat of summer; the bitter chill of winter; the chatter of the television next door; and the laughter and other sounds of the street outside. As the hours passed and my entanglement in the stories deepened, I naturally hated it when Dad decided to make one of his snap inspections. Caught in the act, he would confiscate my book, turn out the light, and order me to sleep. Orders are orders, and I would close my eyes until he had left the room. What choice did I have? Once all was quiet again, I'd pick up my flashlight, bury myself under the covers, and happily pick up where I had left off. An unfortunate, and uncomely, side effect of my pleasurable passion was my 'panda eyes'. Of course, these just inspired my father to heap more of his 'ideological education' on me.


The days flowed into months and eventually years. My reading habits gradually became more 'normal' and, due to my love of reading, my language-class grades steadily improved and my extracurricular knowledge continued to expand, stoking deep passions for life, my community, and my world!


Those who read plumb the depths of countless possibilities. Pages touch the heart of the story and bring characters to brilliant life. I cannot help but dive elatedly into each and every story that finds its way to my eager eyes.


Books - my greatest love and happiest passion!


Comments of Reviewer 1


The author brilliantly uses examples from life to highlight his irrational love of reading as well as vividly describes things that happen during the course of reading. Examples include being expelled from a bookstore and hiding from Dad under the covers in order to continue reading after bedtime. In the pursuit of his reading passion, the author doesn't even regret his 'panda eyes'.


Comments of Reviewer 2


The theme is clear; word usage is lively; and the story is woven with individual life experiences. Passion for reading and the emotive feelings of 'enjoy' infuse the narrative. This exceptional piece is well structured and executed.