The International Schools CyberFair, organized by Global SchoolNET (GSN), is a project sponsored by a U.S. Department of Education Technology Innovation Challenge Grant. Over 20 International Schools CyberFairs have been held since 1995.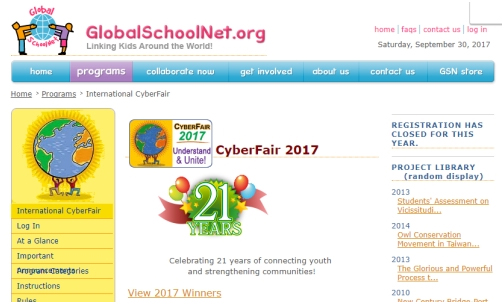 International CyberFair, now in its 23rd year, is an award-winning, authentic learning program used by schools and youth organizations around the world. Students conduct research about their local communities and use digital media to publish their findings online. Recognition is given to the best projects in each of eight categories: local leaders, businesses, community organizations, historical landmarks, environment, music, art, and local specialties.
This White House endorsed program encourages youth to become ambassadors for their own local communities by working collaboratively with community members and using technology tools to publish a website or create a video that displays what they have learned. The annual contest has involved more than 5 million students from 45,500 schools across 115 countries—and is considered the longest running international online event of its kind.
Competition judging also takes place online. Students evaluate each others projects using a web-based evaluation tool (rubric) designed by Global SchoolNet. The top forty entries are reviewed by international judges to determine the best educational projects. Winners of International CyberFair are announced each Spring at a event that is global in itself, with hundreds of schools participating via Internet.
Town & Talent Technologies (and, afterward, Talent and Story Technologies) Co., Ltd. has regularly organized the participation of member schools in western China in the CyberFair since September 2005. This has substantively enhanced students' web-design capabilities and bridged western Chinese schools to the world.
As of 2016, over 50 schools in western China have earned a total of 24 platinum, 68 gold, 156 silver, and 97 special mention awards.